Wolfgang Detailer's Tool Bag
Wolfgang Concours Series
-
SKU:
WGPDB01
or make 4 interest-free payments of $19.98
fortnightly with More info
Wolfgang Concours Series


Detailer's Tool Bag
The Wolfgang Detailer's Bag is the perfect solution for storing all your detailing and car care product and tools in one convenient location where you can have everything at hand when on the move also.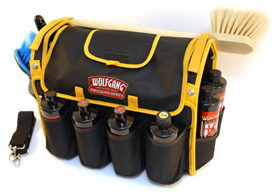 The tough Nylon Canvas bag is water resistant and offers many different configurations for storing products. You can store 4 x 473ml bottles at the front and 2 on either sides, or uses them for tools with handles.